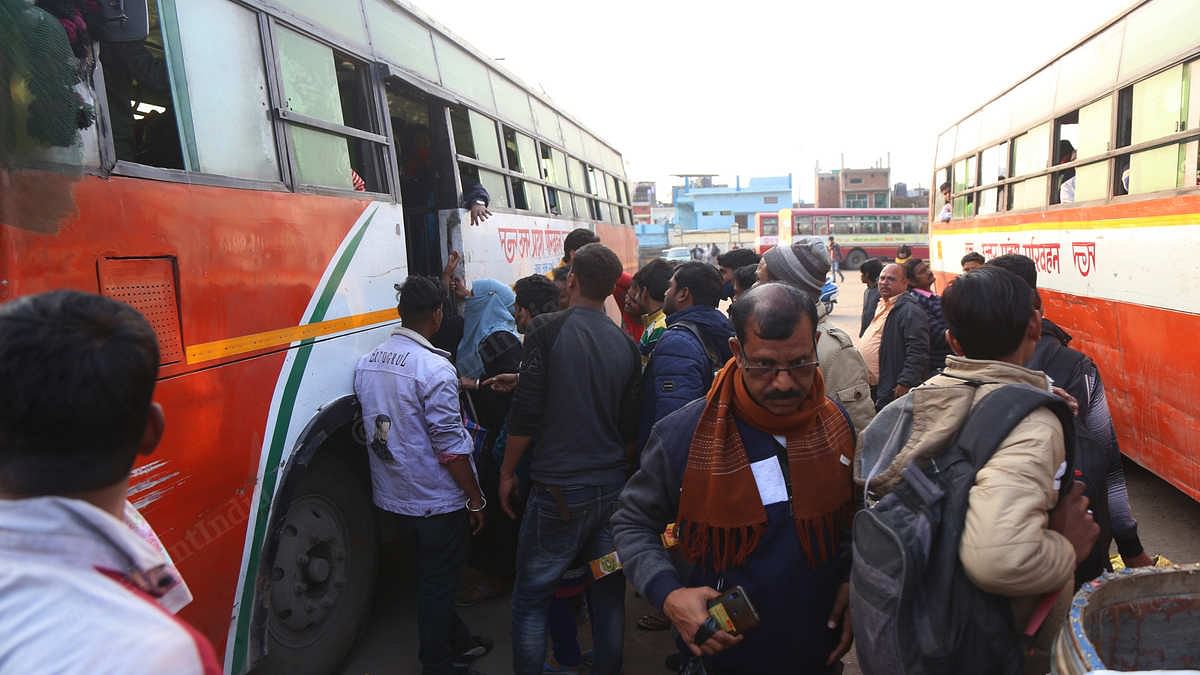 3 of India's 4 poorest districts are a 'mandate economy', survival means getting away from UP
Bahraish/Balrampur/Shravasti: Shiv Kumari, 36, says she lives with overwhelming guilt every day. About three years ago, she convinced her husband Bikesh Rana to quit his low-paying construction job in their village in Shravasti district of Uttar Pradesh and move to Uttarakhand for better work, while she remained with their three children.
"He never wanted to leave despite so many men from our village working outside. It was me who pushed him to go and earn more so that we could have a decent life," Shiv Kumari says calmly, his hands busy making small leaf plates.
At first, the move went well. Rana has made a lot of money in the neighboring state, working at the National Thermal Power Corporation (NTPC) Tapovan-Vishnugad hydel project in Chamoli district. Where he once earned just 250-300 rupees a day, he now regularly sent 15,000 rupees home. "Finally, I was able to save some money after paying the household expenses," says Shiv Kumari.
The separation was hard but many families, most of them from the Tharu tribe, like Rana, were in the same boat. Their village in Sirsiya block of Shravasti, in fact, has hardly any young men, as most have migrated for better work, including to the hydel project in Uttarakhand.
Then disaster struck. On February 7, 2021, part of the Nanda Devi glacier broke off at Chamoli, resulting in an avalanche and flooding in the Alaknanda River. At least 15 people died and dozens disappeared, including many workers at the Tapovan hydel project site.
Bikesh Rana was one of the dead. Four other men from his village also lost their lives in the deluge.
Shiv Kumari received a check for Rs 20 lakh from NTPC, but she still worries about how she will support herself, her three children and her mother-in-law. "With five mouths to feed and no paid members, how long is this going to last? " she asks.
Her neighbor, Sita Rana, is in a similar situation. She lost her 19-year-old son in the Uttarakhand disaster and also suffers from guilt. "I feel so guilty all the time that I forced him to leave. But there are no jobs in the village. If there were, would so many young men leave? she says .
While the death of these workers was due to an unforeseen disaster, it highlights the precariousness of the migrants' existence and the helplessness of their families back home, who can only rely on donations, which may or may not come.
Yet in the three most backward districts of Uttar Pradesh – Shravasti, Bahraich and Balrampur – which are ranked 1st, 2nd and 4th across India in government think tank NITI Aayog Multidimensional Poverty Index (MDI)migration is often necessary for survival.
---
Read also : I can't learn, I can't work, I can't even cross the river: Life in 3 of India's 4 poorest districts, all in UP
---
Destination: Everywhere but here
For most young people in Shravasti, Bahraich and Balrampur, hope still lies elsewhere.
From Mumbai to Pune, Delhi to Ludhiana, Chamoli to Srinagar, Surat to Hyderabad, Jaipur to Gurugram, these young men are ready to go wherever they learn there is work for them, usually through through other migrants – their friends, cousins, former neighbours.
Many prepare for the inevitable departure before they reach adulthood and drop out of school if the opportunity arises. It is worth it for them and their families: in the village, they can earn 7,000 to 8,000 rupees a month, but jobs in towns can earn them salaries of 15,000 to 25,000 rupees on average.
While big city subway projects, malls and hotels are attracting many workers, many are also moving to smaller cities in other states.
Manish Kumar, 22, a resident of Bahraich's Gulalpurwa village, is about to leave for Surat to work in a yarn-making company.
"My cousin works in a yarn company. He said he would find me a job there. He receives Rs 10,500 for eight hours of work. If he works overtime for 12 hours, he gets 15,000 rupees," says Kumar.
The presence of his relatives made him more confident about the move. "I will manage to save more because we will share food and accommodation costs. Plus, in a new town, I'll have someone to talk to.
There are many examples like this – brothers, cousins, neighbors sharing expenses to save and send more money home.
"It's an economy of mandates"
Migration from UP villages to cities is like a "chain link", according to Dr Prashant Kumar Trivedi, Associate Professor of Sociological Studies, Giri Institute of Development Studies, Lucknow. "A person goes to look for a job in town. Once he has one, others in his village use the link to get there," says Trivedi.
"It's an economy of mandates in the villages of the region. Although no government figures are available, our research shows that in some villages migration is as high as 70%," he adds.
The 2011 census puts the total number of interstate migrants in India at 5.4 crores. Of all the states, Uttar Pradesh and Bihar were the main source of these migrants, while Maharashtra and Delhi were the main receivers. According to the 2011 census, about 83 lakh residents of Uttar Pradesh had moved to other states either temporarily or permanently. Those numbers would have increased several by now.
This migration continues to increase despite programs such as the Mahatma Gandhi National Rural Employment Guarantee Act (MGNREGA), the central government employment guarantee scheme, indicates a massive mismatch between supply and demand says Anuj Goyal of Popular Action for Job Guarantee, an activist group.
MGNREGA DEMAND AND OFFER GFX HERE
"First there is large-scale unemployment. The fact that people are coming for jobs under MGNREGA is an indication. The data shows that the scope of employment provided is less than the employment demanded. We have come across many cases where the job application is not even registered," says Goyal.
Labor, skilled or unskilled, is hard to find in the villages, where agriculture is the mainstay. The majority of the poor have small landholdings that are not enough to support large families.
Even an MGNREGA job fetches only Rs 201 per day in Uttar Pradesh which is less than in any other state. In Karnataka, for example, the minimum wage for an MGNREGA worker is Rs 441 per day. In Haryana it is Rs 377 and in Punjab Rs 369.
The situation is no better in urban areas. Government jobs are rare while the presence of the private sector is almost negligible.
The "migration cycle" is likely to continue unless efforts are made to create more industries and factories in Uttar Pradesh, says Chittaranjan Senapati, an associate professor at the Giri Institute of Development Studies in Lucknow, whose research has focused on skills development and employability. in UP.
"The government will have to invest in setting up industries locally. You can then train people accordingly," he says.
However, Senapati adds that qualifying training in itself, as in the various industrial training institutes (ITIs), does not automatically make people employable.
"Young people are trained in courses for which there is no demand locally. This forces even educated young people to migrate. This defeats the very purpose of creating these ITIs. There may be more enrollments in these institutes, but that's it," he says.
---
Read also : Unemployment and unlimited data pack – UP young people are neither angry nor idle
---
Entrepreneurship when all else fails
Even as many young men leave their villages, a few attempt to change their lives by opening small businesses, with bicycle repair shops and mobile kiosks being the most popular options.
Lucky Singh, 18, got help from his father to open a small roadside bike repair shop in Lakshman Matehi village in Bahraich's Balaha block. On a good day, he earns around Rs 400-500.
The market is slow but the election season is helping, he adds. "Everything I earn these days is thanks to the elections. With netas campaigns and political rallies happen, I get a steady stream of clients. »
Singh says he doesn't regret his decision to stay back. "At least I don't have to work for someone else. My three older brothers work as cooks in Mumbai and Aurangabad. It's a tough life. They don't save much after paying the rent and providing for family expenses. My old parents, my grandmother and my sister are here. I take care of them," he said.
Singh, who studied up to grade 7, says he decided to go into business after trying and failing to find work under MGRNEGA.
"The Pradhan (chief) hurt. Every time I went to ask for a job, he found one reason or another and kicked me out. I was fed up," he says.
MGNREGA's mandate is to provide at least 100 days of guaranteed wage employment during a financial year to each rural household whose adult members volunteer to perform unskilled manual labour. the gram panchayat (village council) headed by the Pradhan not only receives job applications, but is also responsible for issuing work cards.
However, in all three districts, many people complain about pradhans prevent villagers from getting jobs through MGNREGA unless a bribe is paid.
Local governments and pradhans deny these allegations, but anecdotes about corruption abound.
"The daily wage under MGNREGA here is Rs 201. Apart from that, if I have to give a certain percentage to the Pradhan, what will be left? asks Tauhid Ahmad, a resident of Bahraich's Dularpur village, in his twenties.
Like Lucky Singh, he too started a small business. His small shop sells mobile phone chargers, phone cases and some stationery and helps him support his mother and two sisters, with whom he lives.
However, Covid has slowed things down. "People don't spend. If I don't have any customers, where will the money come from? " he asks.
(Editing by Asavari Singh)
---
Read also : Malnutrition Code Red: Why half of children in UP's 3 poorest districts are stunted, many of them 'emaciated'
---