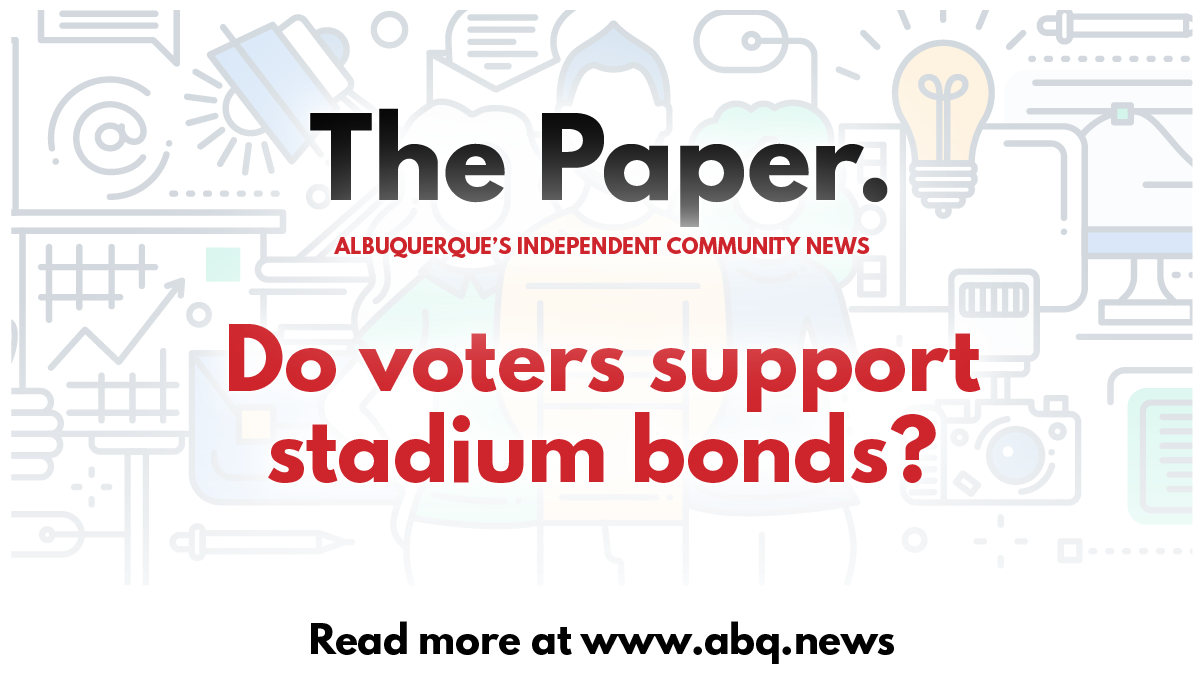 Exclusive poll: NM United Stadium proposal heads for defeat
Editor's Note: Ahead of the local election, The Paper. commissioned the first public poll (793 likely voters) to find out what voters think of mayoral and school board candidates, as well as public opinion on proposed stage bonds, vaccine mandates for APS and who voters believe is most responsible for the delay in ODA reform. The results, like all of our articles, will be free to the public this week. Supporters of paper. get results early. Become a supporter today.
If New Mexico United fans want a downtown stadium, they'd better get busy convincing their neighbors. A $ 50 million taxpayer bond proposal for a new home for the team and other community uses is doomed to fail, a poll by The paper., the first public survey published to date.
The survey of 793 probable Albuquerque voters, conducted September 23-24 by The paper. and Public Policy Polling, is the latest flashpoint in the team's efforts to secure public funding for the estimated $ 75 million facility.
Problem for United: From afar, likely voters oppose public funding to build a new professional football stadium. 59 percent of likely voters say city should not issue bonds for a new stadium, compared to 23 percent who says yes. Only 17 percent report not being sure.
While our poll was on the ground, United and the city announced a binding deal that would inject private funding into the stadium's construction and secure gross revenue for the city.
In numbers…
Young voters don't like the proposal in almost the same percentage as older voters. Only 25% of voters aged 18 to 45 support the stadium's proposal, compared to 26% of voters aged 46 to 65 who support it. The prevailing feeling was that young voters, who make up a large percentage of the team's fan base, would take the proposal beyond the line.
Democrats are divided, but Republicans really don't like the idea. Three-quarters of Republicans surveyed (76%) are against the proposal. Add to that 47% of Democrats and 67% of independent voters who said they would vote "no," and NM United has a serious problem with voters of all political persuasions.
The mayor steps back: Keller became the chief cheerleader of the effort when it was first announced. His constituents, however, want him to do something else. Only 30% of voters who say they supported Keller in the 2017 municipal election say they support the stadium (50% are against and 20% are unsure).
This is likely why Keller was nowhere to be found when the campaign and the city announced a deal for the team to add $ 10 million to the construction fund and guarantee a total of $ 30 million in revenue. The team launched a large-scale mail and television advertising campaign featuring fans and local businesses asking voters to "vote yes on stadium bonds." Keller is also not featured in the big advertising blitz launched last week.
The big picture: The nascent and popular USL team must catch up if they are to secure public funding for a permanent home.
When, where and how to vote in municipal elections
Absentee vote: On October 5, the county clerk will begin mailing out mail ballots to voters who requested them. You can still request a postal ballot until October 28. Get yours here.
Advance vote: Early voting begins at a downtown location on October 5. Early voting at convenience stores across town begins October 16. Find information here.
Election day: Tuesday, November 2 is the last day to vote.
New Mexico now allows eligible voters to register and vote on the same day. Inquire about same-day registration from the Bernalillo County Clerk.
RELATED
Team-funded campaign seeks public support
City presents terms of long-term rental agreement with New Mexico United