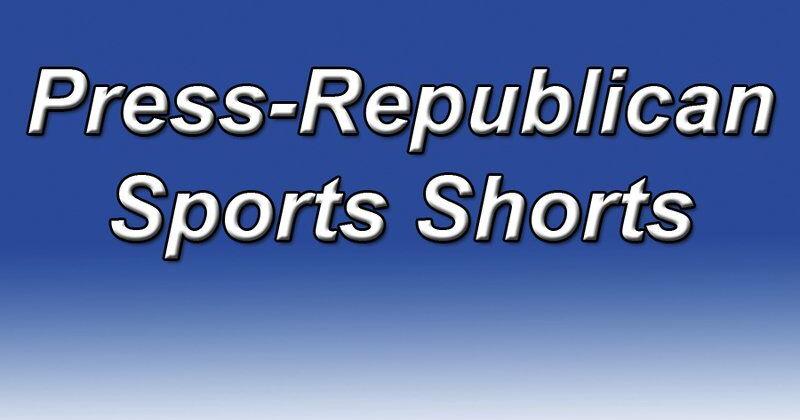 Sports Shorts: April 6, 2022 |
A former Peru named in the honors PrestoSports SUNYAC
CORTLAND — Cydney Bond, a graduate from Peru, has been named PrestoSports New York State University Tennis Singles Athlete of the Week.
Bond was also named, along with Montgomery's Sarah Hoeffner, as the PrestoSports SUNYAC Doubles Team of the Week. The duo won a pair of No. 1 doubles games, helping Plattsburgh State go 2-0 in their first games of the spring.
Bond won his singles matches, 6-2, 6-3 against opponent Mount Saint Mary and 7-5, 6-0 against opponent Bard College.
TGIF Bowling League Announces Recent Scores
PLATTSBURGH — The TGIF Bowling League released scores for the competition on April 1.
—
HS- Dennis Seymour 171/243/192/636, Audrey Peryea 143/212/193/558.
HG- Gary Long 247, Audrey Peryea 212.
SST- Gary Long 173/190/247/610, Joe Phaneuf 214.182.198.594, Alex Bechard 180/207/192/581, LJ Vincent 201/174/189/564, Ed Gebo 161/210/180/551, Wayne LaBarge 189/ 193/168.550, Jim Russell 182/190/177/549, Claude Lashway 181/160/201/542, Barbara Cotter 205/149/185/539, Dawn Chapple 176/190/167/533, Dave Glenn 183, Bob Carpenter 200, Dave Pellerin 187, Len Wood 204, Homer Bushey 206, Don Myers 182.
The mountain club announces a hike
WILMINGTON — On April 10, the public is invited to join the Algonquin Chapter of the Adirondack Mountain Club for a hike on the Crows in Wilmington.
With Little Crow coming in at 2540 feet and Big Crow at 2815 feet, the hike is rated as easy with a round trip of 3.2 miles. Trip leader: Kimberly Smith, 518-645-0447. Please call before April 9 to register.
Applications for Spring Kickoff Classic are now being accepted
PLATTSBURGH — The 19th annual Plattsburgh State Soccer Girls' Spring Kickoff Classic is now accepting applications. Requests are on a first come, first served basis.
Two dates are set, May 1 and May 8. The May 1st date is set for the 2010 and 2011 girls and the 2008 and 2009 girls. The deadline is April 25th. For May 8, the games will be the 2004-2007 women's tournament. The deadline is May 2.
Games will last 25 minutes with a three-game guarantee, taking place on the playground at Plattsburgh State Field House. The cost is $180.
For more information, contact Frantzy Noze, 860-639-4749.
Plattsburgh resident makes All-Irish team
Shannon Ryan of Plattsburgh has been named Defensive Player of the Year for the Eurobasket.com All-Irish Super League. Ryan plays for Brunell, Cork, Ireland and was also named to the Irish Super League first team.